Thank you for contacting Economic Roofing Services, a representative will contact you shortly.
About Us
---
Economic Roofing Services is fully dedicated to providing the highest quality workmanship, the most advanced roofing technology, and the smartest solutions for all types of residential roofing systems. Whether you need highly effective roofing repairs or a brand new state of the art roofing system, our experienced consultants will provide you with a comprehensive work-site inspection to determine your particular roofing needs and deliver any necessary roofing services, which are guaranteed to last for as long as you own your home.
Economic Roofing on WUSA9!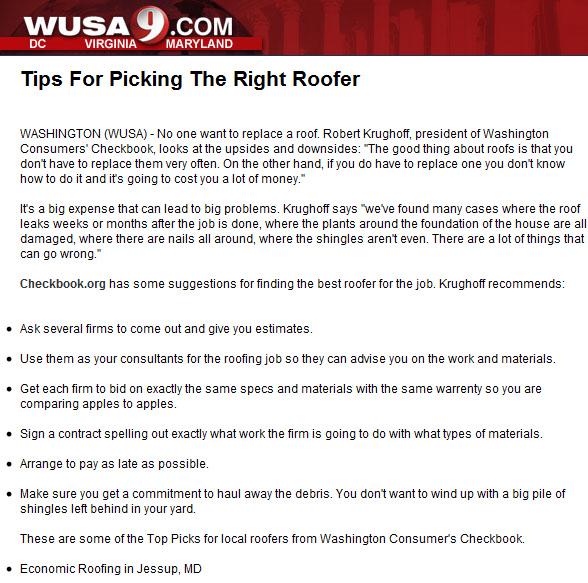 Click Here To Download a PDF of The Original Story
Our Reviews
Recently have my roof and gutters replaced. Great job on both. They were my original roof installers and we have been using them over last twenty years. Never had any issues. Friendly people from workers, field manager, to office staffers. Honest responsible business people, efficient professional. - L.P. Yang
I used Economic Roofing recently and they were amazing. The roofer was knowledgeable, he had everything on his truck to repair my roof and it was affordable. I highly recommend them! - T.R.
We have used Ty Hines and economic roofing several times. Always great service. - Ethan L.